In keeping with the tradition set years ago, of always being the "Last Annual" event in the series, the Beer Blast is returning by popular demand one more time. Will this be the last ever beer blast? You just never know. Just in case it is the final one, we highly recommend that you be there!
We've changed venues this year and the Blast will be on our home turf – in the Dundalk area. See below for all the details on where, when, and how much. Join us on December 28, 2017, at 7PM, at American Legion Post #38 in Dundalk, MD and partake of some holiday barbershop fun! Your admission cost will cover entrance and drinks. Food will be available for purchase from the kitchen on site.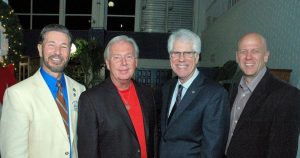 This year, our featured entertainment will be Arcade – the 1992 M-AD champions and perennial fan favorites. Filling in on bass will be Mike Kelly. You don't want to miss this special one-time-only reunion (that is, until the next reunion). One of the "Most Influential" quartets in the Mid-Atlantic District, they were most famous for their 'color-outside-the-lines' style and "lobby concerts". Arcade was a once-in-a-generation quartet that was loved deeply by their fans in the Mid-Atlantic District. Come on down to the Blast on December 28, 2017 to see Arcade one more time.
A little Arcade history lesson:
In 1981, Jim Grant – lead of 1970 champion Oriole Four – wanted to form a new quartet and invited Bob "Diz" Disney to sing lead. The new quartet was called Arcade. They began with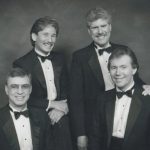 Rick
Taylor on bari,
Jim
Grant on bass,
Diz
on lead, and
George
Wagner on tenor. After 5 years, George left the quartet and was replaced by
Dave
Hinman. In this foursome they all decided they just wanted to have "fun." Hence the name, which implied "Fun and Amusement." As soon as they formed, they immediately became popular on the show circuit. They gravitated toward songs being sung by other top groups of the time but also did some original Diz songs. They "borrowed" songs from The Suntones and The Easternaires – and did them well. Many other quartets tried, but couldn't do justice to the material. They took  advantage of Diz's strong, high, and effortless lead voice. Arcade did about 25 shows a year during their 17 years together.
And they had fun too. In 1990, they couldn't go to International but they attended the MAD qualifying contest anyway. The quartet believed in "giving back" to the district. Arcade hosted a party. The quartet paid for the room, the beverages, and the snacks. Cost of admission was NOTHING. The standing room only 200 friends who showed up had a ball. No quartet had ever done anything like this before. Arcade loved their fans and their District. And their fans loved them right back. In the fall of 1991, Arcade won the M-AD District Quartet Championship and became the 1992 M-AD champions. When Jim Grant passed away suddenly, later in 1992, he was replaced by Bill Cody.
As all good things must eventually come to an end, they retired in 1994.